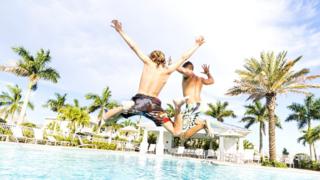 Nicola Sturgeon has urged Scottish families to not book holidays abroad during the October school holidays.
In her address to the Scottish parliament, the first minister said Scottish families should treat the autumn term holiday as an opportunity to limit social contact with others.
And she told MSPs proposals for a temporary "circuit break" lockdown over the school break were under review.
That was a policy suggested by the UK government to interrupt virus spread.
The idea is that a short, sharp period of tightened restrictions for everyone could curb the spread of coronavirus.
However, Ms Sturgeon said: "The Scottish government has not made any decision at this stage to implement such a policy – however, we are actively keeping it under review."
Speaking of the upcoming school holidays, she said: "Please think of the October break as an opportunity to further limit social interaction.
"And, given that this is a global pandemic, please do not book travel overseas for the October break if it is not essential."
Mike Tibbert, vice president of the Scotish Passenger Agents Association, said those comments could be "the final nail in the coffin" for the Scottish travel industry.
He said it had "become clear" that the entire travel sector was in "real and immediate jeopardy".
"We seem to have government announcements actively designed to destroy travel jobs and the whole industry when there are destinations which it is safe to travel to," he said.
Use the form below to send us your questions and we could be in touch.
In some cases your question will be published, displaying your name, age and location as you provide it, unless you state otherwise. Your contact details will never be published. Please ensure you have read the terms and conditions.